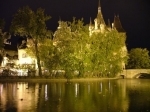 The Castle in the City Park was built for the Hungarian Millenium in 1896 (just like so many other things in Budapest :). It was designed by Ignac Alpar and it consist of 3 "blocks" in diferent styles (romanesque, gothic and renaissance). It's name comes from the most significant part, the tower, which is a copy of the tower of the Castle in Vajdahunyad. The buildings were originally only temporary ones, but in 1900 Alpari received an assignment to carry out the permanent buildings. Today the biggest part of it houses the collection of the Museum of Agriculture.
Phone: (+36) 1 343 31 98
Directions: In City Park (Varosliget), in the middle of the lake (behind Heroes Square), access by Millennium Underground Rwy (M1) and buses 4, 4express, 20express, 30: get off at Hosok tere.