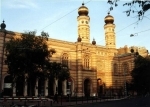 The Great Synagogue of Dohany street was built between 1854-1859 by the Neolog Jewish community of Pest according to the plans of the Viennese architect Frigyes Feszl and Ludwig Förster. In 1996 they finished it's reconstruction, so nowdays it shows it's original splendor. It's really a great synagogue, in size as well, since it's capacity is 2,964 seats (1,492 for men and 1,472 in the women's galleries) making it one of the largest in the world and the biggest in Europe. The building has a lenghth of more than 53 meters and it's 26.5 meters wide. The design of the Dohany Street synagogue, while basically in a Moorish style, also features a mixture of Byzantine, Romantic, and Gothic elements. The 5,000 tube organ of the synagogue was built in 1859; Franz Liszt and C. Saint-Saens are probably the most famous musicians that played on this remarkable instrument. Next to this synagogue there's the Jewish Museum (with a Holocaust memorial room) and the Hall of Heroes (with the Monument of Hungarian Jewish Martyrs). The two towers of the building are 43 meters high. Inside the Synagogue very special concerts are held.
Phone: +36 1 343 6756
Directions: Between Deák F. tér and Astoria along Little Circle Road. Metro stations Deák F. tér (M1,2,3) or Astoria (M2). Tram stop Astoria (#47, 49), bus stop Deák F. tér (#4) or Astoria (#7, 7A, 9, 78).