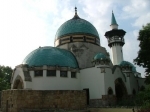 Ok , I still haven't told ou where I was going to. The zoo of course. Since there are a lot of things closed on a monday but the zoos never close on monday. Visiting the zoo is a real monday activity. Why should you visit the zoo in Budapest? Well I think the zoo is a tipical product of it's time and place here. Some sources might say that the zoo's architectural value is low. That it is jugendstil but ludicrous… The architect is 'Kornel Neuschlob'. And i loved it. That sort of buildings belong in a zoo. The elephant house is for instance inspired by a mosque. The entrance building is a real pearl. Anyway. The zoo itself is quit nice. They got a large collection of animals who look healthy and are well taken care of. True , some enclosures are too little and there still is some work that has to be done. The zoo has a special collection of snakes , insects and little monkeys. (the zoo has 200 monkeys.) They got special combinations of animals. There is one thing you have to pay extra for. It is the greenhouse. But it is worth it. (only 400 forint – a little more then one euro) It has gone true a ten year renovation and contains many plants , reptiles , monkeys. Under it you will end up in a fantastic aquarium. And there is a beautifull cafféé with terrace.. Sweet , coffe and animals. Don't forget the petting zoo…it is great.
Phone: (+36 1) 363-3710
Directions: In City Park, near Heroes' Square. Take M1 to Hosok tere station or trolley-bus 72 from Arany J. u. M3 station to Allatkert stop. Also accessible by trolleys 75 79 from Stadionok and Keleti pu. (M2)
Website: http://www.zoobudapest.com
Other Contact: Free with the Budapest card.